Stories About Members'
First Antique Automobiles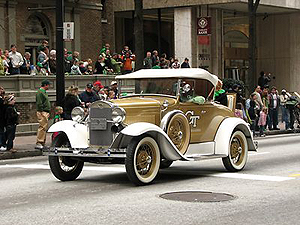 First Love ...
Your first Antique Automobile will always be remembered. Just like your first love. Maybe you still enjoy your first antique automobile and have no interest in parting ways. Maybe it's how you first met ... was it love at first sight? Have you had moments that made you want to give up and throw in the towel.
Ever great car has a story that goes with it.  It may be a story that you've told a 1000 times, but this is your chance to share your story with others in a whole new way. Do you have before and after pictures? Include them with your story.
Share your stories.  We look forward to reading them. 
Your first Antique Automobile is like a first love.
It's one you never forget.
Tell us about it here.
Share your photo and story about your first antique automobile.
Your first Antique Automobile
Click below to see some great stories from other visitors to this page about their first Antique Automobile ...

THERE WAS A MUSTANG IN OTTAWA

In the fall of 1998 as was our custom for many years, we headed away on our annual fall get-a-way with our good friends the Grills. This year our tour …
1968 Ford Thunderbird Not rated yet
When I was a wee lad my Father's daily driver was a 68 Landau. This beautiful car unfortunately met a nasty end in Kentucky on the way to Florida one spring, …