THERE WAS A MUSTANG IN OTTAWA
by ERIC & DONNA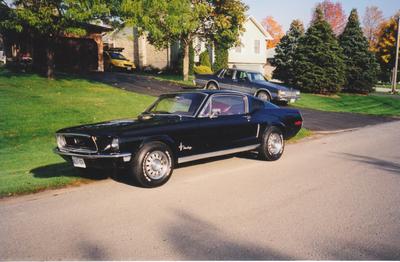 In the fall of 1998 as was our custom for many years, we headed away on our annual fall get-a-way with our good friends the Grills. This year our tour was taking us to Ottawa as we were going to pick up their youngest daughter from university to come home for Thanksgiving. I had been looking around and researching for a classic car and knew that at C.W.M. Auto Sales just outside of Ottawa in Winchester there was a 1968 Fastback Mustang that I wanted to see. My wife and our friends agreed to let me have a look so out we went. After seeing it and having a test drive I knew I had to have it. A deal was struck with Wayne and off we went to the local branch of the Royal Bank in Winchester to make financial arrangements. A call was made to our home branch in Port Perry where I spoke to another friend and she was glad to help me. So it all came together the purchase, licensing and insurance arrangements, and I was able to drive the Mustang home. I still get a kidding today from our friends about the year I made the big purchase.

In the early 90's the Mustang had undergone a 2 year restoration. It was painted black with a red interior and the power train was a 289 with a 3 speed manual transmission. After decoding the VIN number I discovered the original colour was Highland green (dark green metallic) with black interior and automatic transmission. I was quite happy to learn this as it would have been my first choice if I had ordered it new. The next 3 years were spent collecting needed parts and converting the car back to an automatic transmission with power steering and power brakes. I had it painted Highland Green and spent the winter of 2000 changing the interior back to black. We managed to just have it ready for the 2001 London to Brighton tour to Kalamazoo, Auburn and Frankenmuth, Michigan.

Join in and write your own page! It's easy to do. How? Simply click here to return to First Antique Automobile Stories.