1968 Ford Thunderbird
by Andrew S.
(Unionville, Ontario)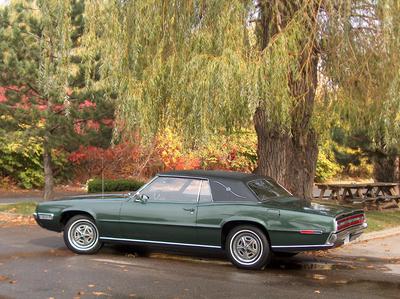 When I was a wee lad my Father's daily driver was a 68 Landau. This beautiful car unfortunately met a nasty end in Kentucky on the way to Florida one spring, but it in my memory it did not.

When my wife and I decided to get an old car I knew exactly which one would fit our budget (ha ha ha more later) and style, thus began our search. In May of 2003 we found our car just outside of London in a town called Mt Brydges. The car was a Highland Green 68 with a 429 and looked very clean (or so we thought). After driving to Port Hope to deliver it for the safety and routine maintenance, we were shocked to find a perforated frame that had been purposely concealed. Well after a few phone calls we were now the owners of a body and motor for a lot less money but a lot more work ahead.

The late Gerald Anderson stepped in and put our girl back right and 12 years later she is still running great I like to think Gerald (even though he was a great G.M. guy) looks out for this now increasingly rare car from above and we will always be grateful for the job he did. Folks.... old car people are truly the best!
Join in and write your own page! It's easy to do. How? Simply click here to return to First Antique Automobile Stories.