Passport to Adventure - Fall Foliage Tour - September 20-22, 2013
by Eric & Donna Donnelly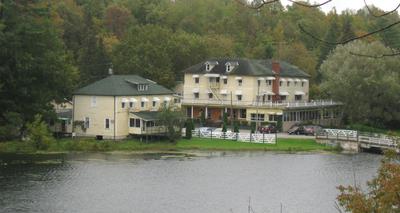 Friday was a gorgeous sunny day as we all set out from our homes on the journey to Hotel Kenney at Jones Falls. Many of us travelled along Highway 7 to Maberly where we took County Road 36 which is full of curves but was very scenic as the sunshine enhanced the many colours of the trees. After arriving at the Hotel and checking in club members sat out on the lawn enjoying an afternoon of social time with a view of the Rideau Canal and any boats that came through the locks. The wonderful meals prepared by the staff at Hotel Kenney were enjoyed as much this time as in 2010 when the club came here for their first visit. Our members spent time together in the evenings in the warm atmosphere of the living room and bar in the main Lodge building.

As the weatherman promised, the rain arrived on Saturday morning but undaunted we all set out for the Diefenbunker in Carp. This Bunker was built in the late 1950's - early 1960's to house the Canadian Government and Media in the event of a Nuclear Attack. You can't imagine the number of rooms in the four different levels underground when you enter through what appears to be a huge culvert. Things appear just as they were in the Cold War era. After a very interesting tour we all went in our directions touring different towns and villages before meeting back at the hotel for supper and socializing.

After breakfast on Sunday we had sunny breaks so some of us walked the grounds of Hotel Kenney before heading out to meander our way back home. Donna and I enjoyed hosting this tour and the camaraderie and time spend with all our friends from the Club.
Join in and write your own page! It's easy to do. How? Simply click here to return to AACA Ontario Events.